Children bedroom decoration ideas!
Children Bedroom Decoration Ideas 2018
How To Keep Your Kids Happy
Steph Withers – Founder and Editor, Chalk Kids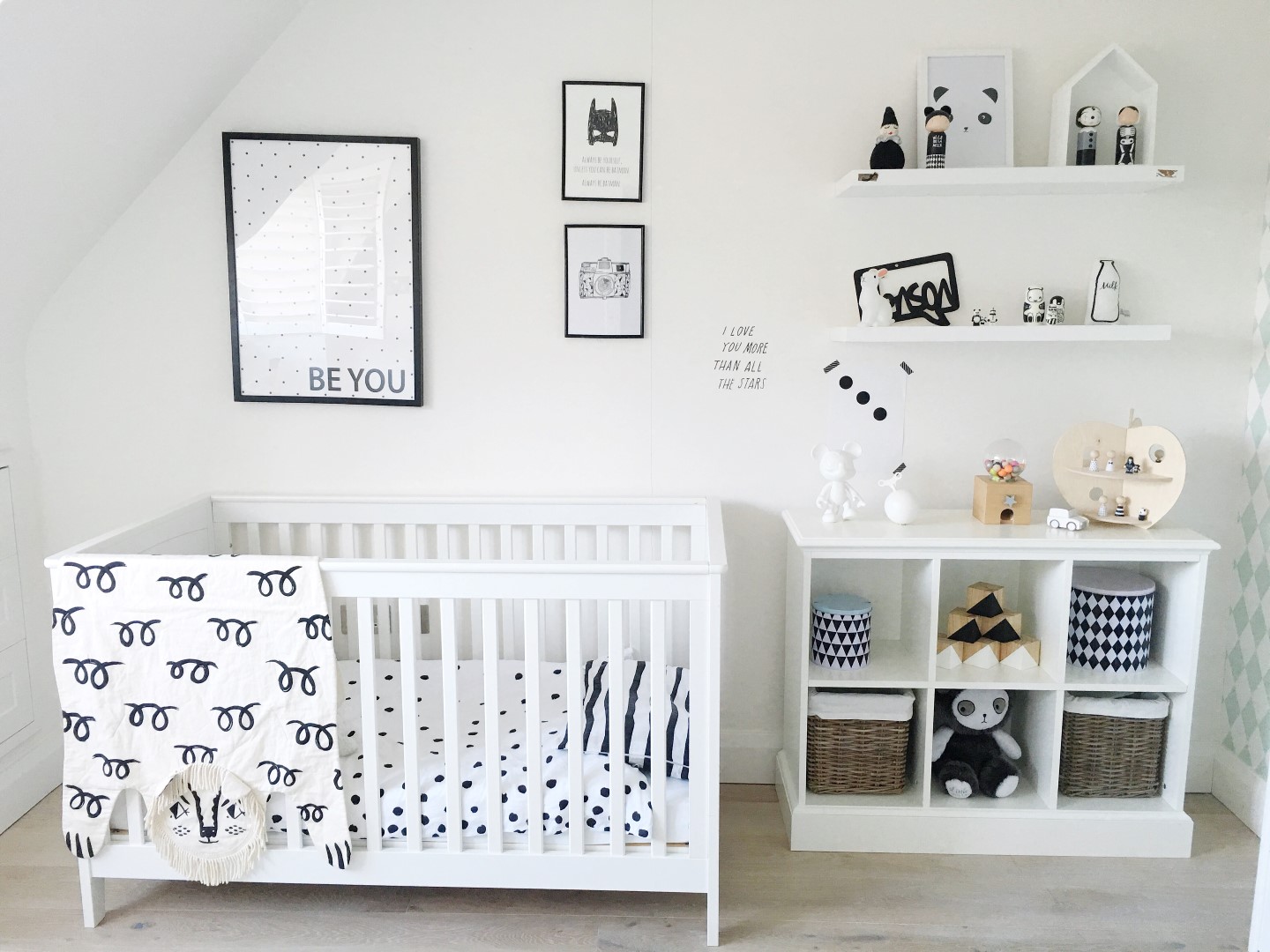 When it comes to children bedroom decoration, my eye is always drawn to white, airy rooms with playful details to add warmth and colour. Jenson's gender neutral nursery is a perfect example of this, with his sweet ladybug bedding and special wooden toys out on display. There's space to let him play unrestricted, with stylish storage boxes to tidy away any clutter afterwards. It's also a room that can easily grow with him for years to come. Whilst monochrome is the trend of the moment, it can be surprisingly tricky to get right. The key is to find a balance and you can do this by adding in more soft tones and textures such as wooden accents, a fun wallpaper or contrasting prints. Not only does it make the space more interesting, but it doesn't restrict you to one overly coordinated look. Have fun with styling and sourcing your key pieces and it will shine through in your children bedroom decoration!
Emma Green – Interior Designer and client of our sister company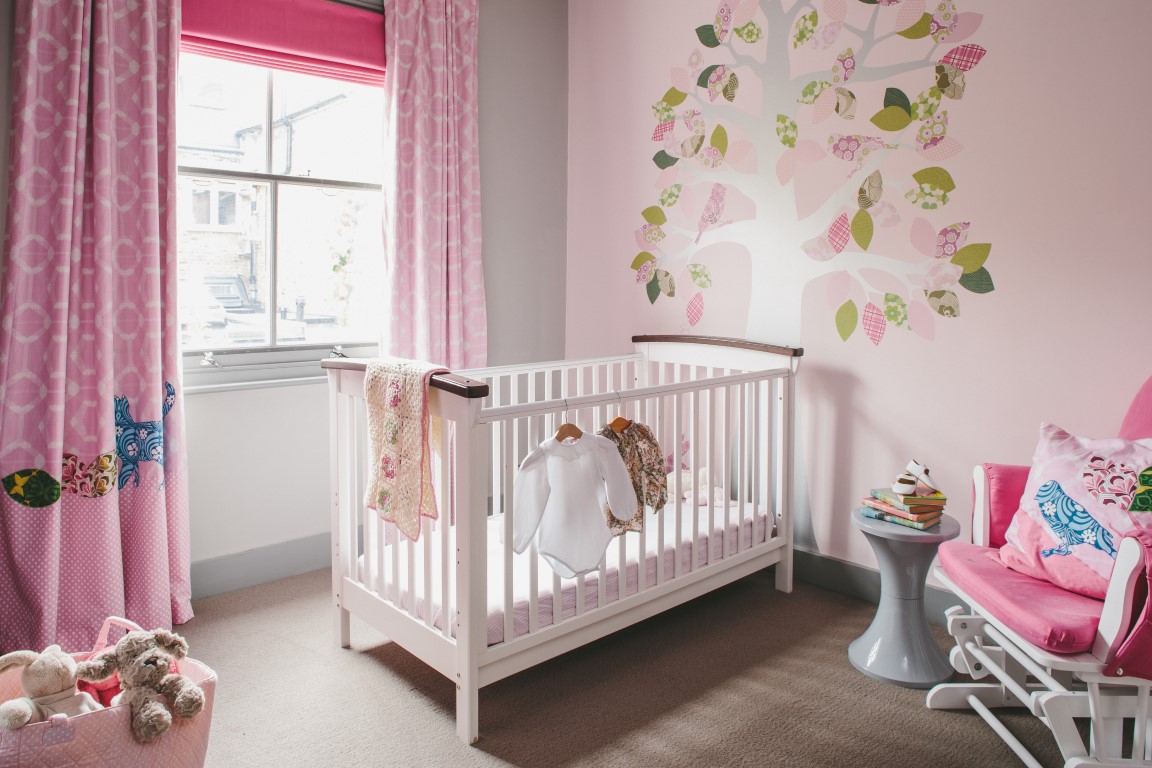 I wanted this nursery to be a tranquil yet timeless space. The combination of subtle greys, soft pinks and white furniture is timeless and effortlessly stylish and ensures longevity. Taking inspiration from the vintage wallpaper tree art, I have accented this with brighter pinks and lime greens to punctuate the scheme and add freshness. The cotton curtains, have a playful embroidered band across the bottom featuring cats and birds, adding interest and fun to the scheme and contrasting well with the brighter pink linen blind. There is a useful mix of both open and closed storage. Contemporary pieces (such as the bunny nightlight and the grey acrylic storage stool) are mixed with vintage finds (including the wallpaper used for the tree and the antique children's books) to create a unique room and one that complements the rest of the home. A sweet sanctuary.
Jacinda Malloy – Interior Stylist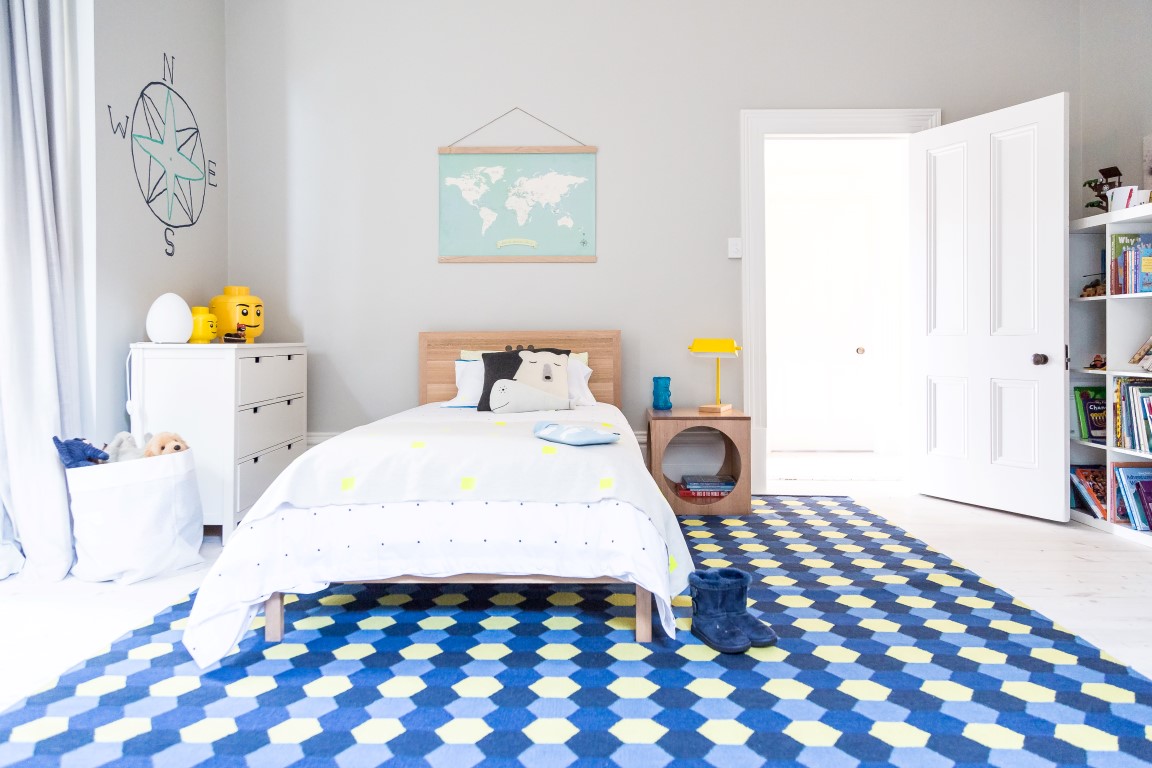 When I began Benji's room, it was all about getting to know him. Benji has a twin brother so I wanted to make sure when designing their rooms that their different personalities were expressed.  I soon found out that Benji's favourite color was blue, so blue was a must. I also found out that Benji was interested in travel, the world, and had a very inquisitive mind. These two details were then the theme for my design. I used a large blue rug so that blue was prominent in his room but I didn't want it to be dark and dreary so I chose a yellow to lift the blue and then used accents of both blue and yellow around the room. To inspire his travel goals, I added a world map on one wall and commissioned a small hand painted compass mural on another wall. I love this space as it's light, bright, stylish and still reflects Benji's fun, adventurous personality
Danielle Parisi – Interior Blogger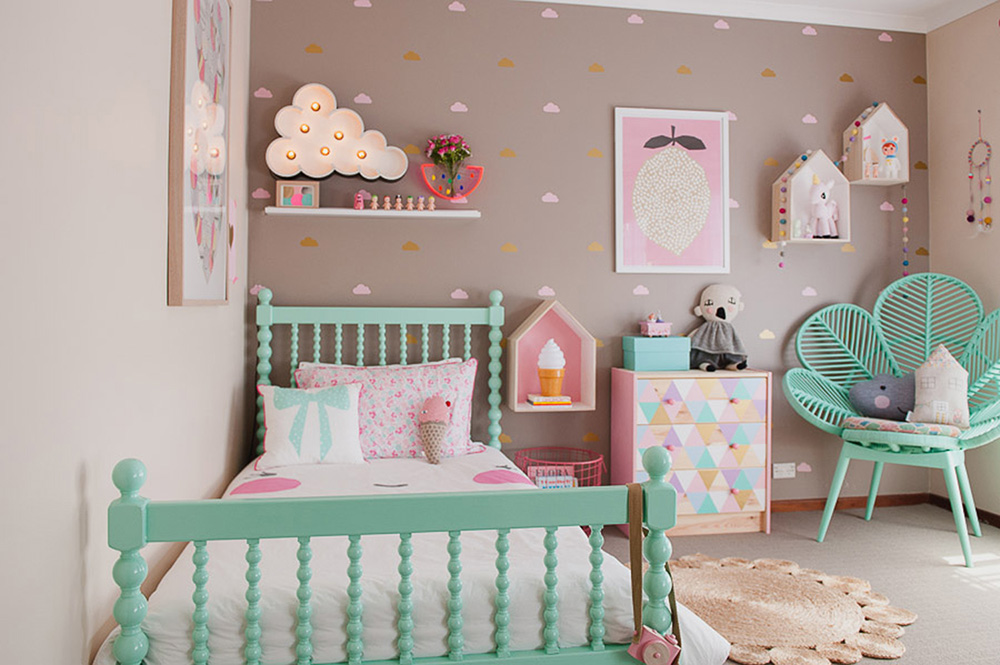 This girl's bedroom designed by Petite Vintage Interiors features some must-haves for ultimate fun and style for little ones. Pastel colours are great in children's bedrooms, mixing pastel colours makes it really easy to achieve a scheme that is soothing and still loads of fun. I love the pink and mint features that stand out in this bedroom! Next, the wall stickers are a great addition. They are easier, quicker and cheaper to use than wallpaper. Little dots, triangles or clouds are just some of the many choices available. Making storage fun is also important by using cleverly shaped side tables and shelves. The house-shaped shelf used as a side table here is a great example. And you'll score highly on the fun factor!
Lizzie Woodman – Lifestyle Blogger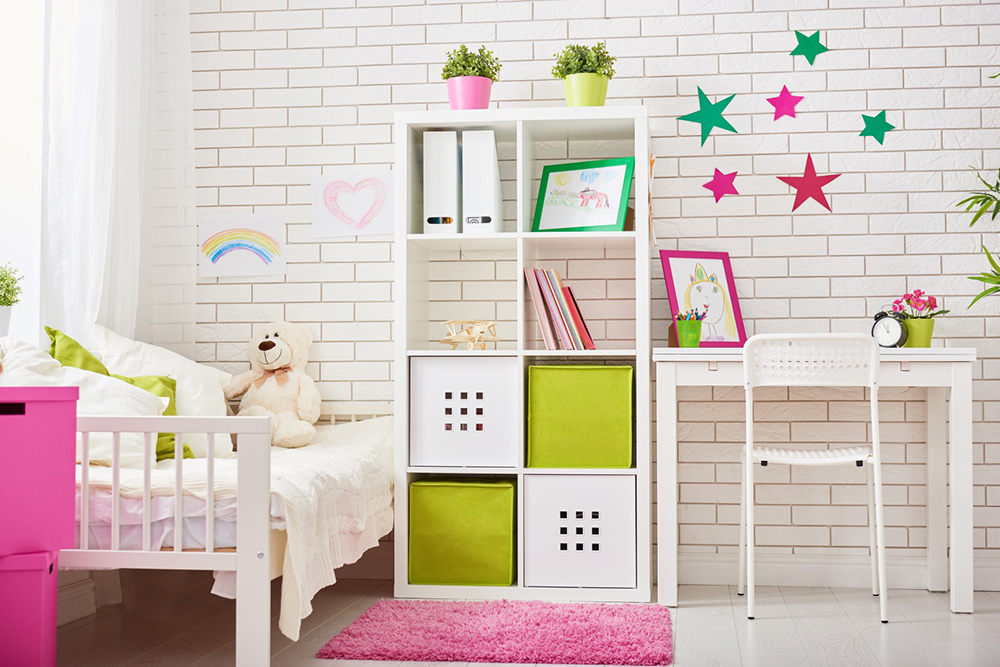 For grown-ups a bedroom is a place of tranquillity and calm. But do young children have the same needs? A bedroom is their space – a chance to distill their rainbow coloured personality into a single (usually fairly small) room. And children come with a lot of stuff – which usually means they're living in the aftermath of a tornado of toys. Organisation is key – it's all about creating order from the chaos without becoming a control freak. Which is why I love bedrooms with clever, inventive storage. The trick is to balance your desire for organisation with plenty of bright, colourful, child-friendly fun. Beds with built-in storage, slim-line desks and bookshelves are all great ways to use every scrap of space as efficiently as possible. The clever furniture and pops of colour in this photo are neat enough to please the grown-ups whilst still being perfect for the kids.
Gina Everett – Interior Designer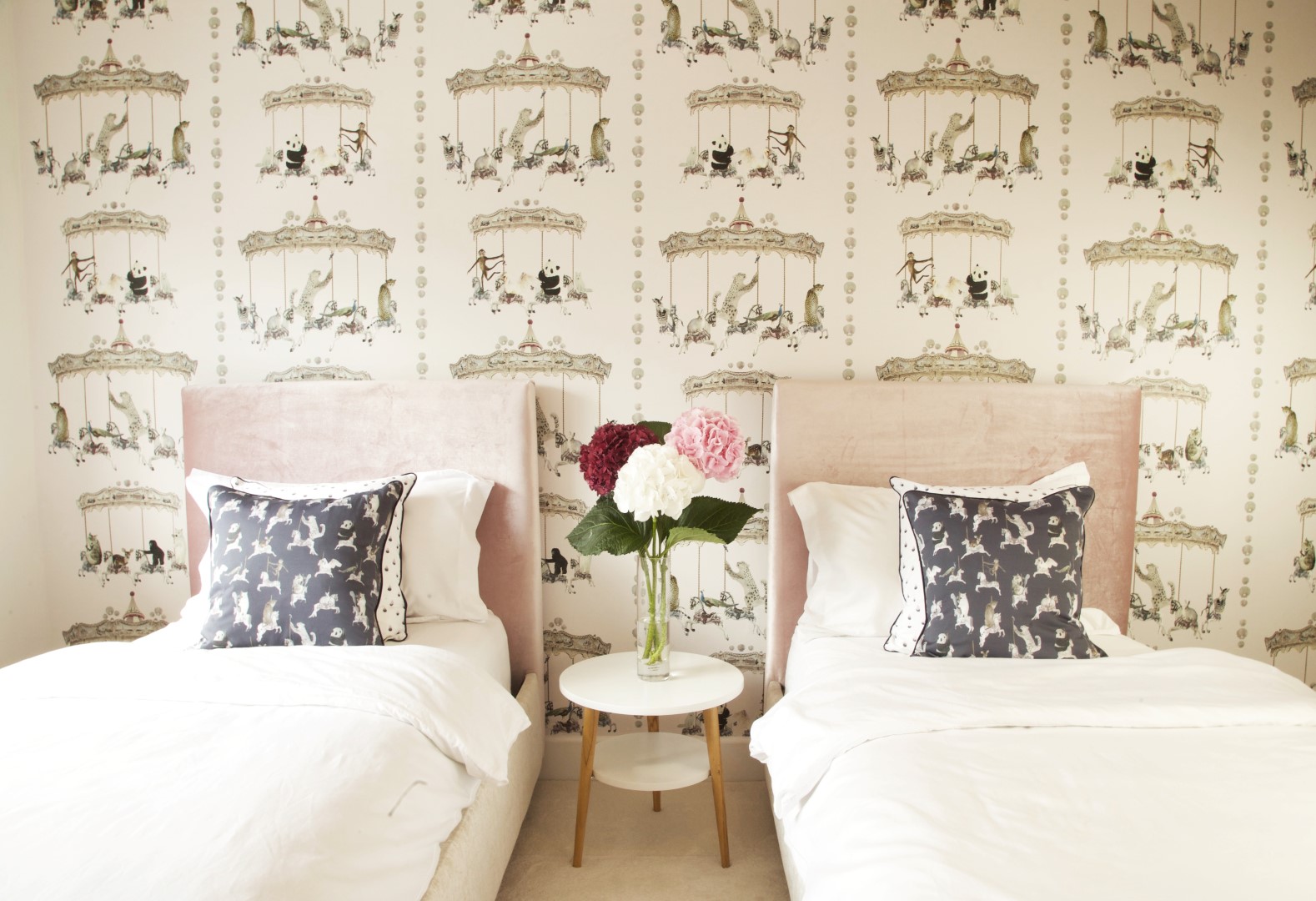 When decorating children's bedrooms, we love to use statement wall paper that tells a story to the children who use it or inspires something magical.  The carousel wall paper pictured (by wildheartswonder.com) is a favourite. It offers a more grown up takes on the children's bedroom whilst still inspiring the imagination and encouraging a love of nature. Wallpaper is also a great way to get an accent colour or theme into the room which can then be layered upon with cushions and accessories
Share Children Bedroom Decoration on: